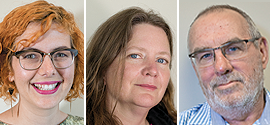 Shelley Melanson
Membership Engagement Officer
Shelley has extensive experience in organizing in the post-secondary education sector. She served as the Ontario chairperson and national deputy chairperson of the Canadian Federation of Students. More recently, she worked with the New Democratic Party where she was responsible for the development, training, and application of a new member and voter database.
Andrea Harrington
Collective Bargaining Officer
Andrea was a staff representative with the York University Faculty Association. Prior to joining YUFA, Andrea was active in CUPE 3903 as a steward and strike communications coordinator. Andrea holds an MA in political science and studied law at the Univer­sity of Toronto.
Peter Barnacle
General Counsel
Peter has extensive legal experience as an advocate for unions and employees in Canada, as well as the UK and Ireland. He was co-counsel in the Saskat­chewan Federation of Labour case heard before the Supreme Court that enshrined the right to strike as protected by the Charter of Rights and Freedoms. Peter also serves as the president of the Canadian Association of Labour Lawyers.