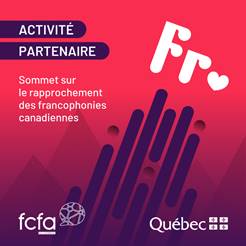 In this period of crisis at Francophone universities, with astronomical debt and deficits that exacerbate inequalities, has the time come for the federal government to play a key role in ensuring adequate funding for post-secondary education in French in minority and remote contexts?  
This is one of the questions asked by the panelists from the Canadian Association of University Teachers (CAUT), the Fédération québécoise des professeures et professeurs d'université (FQPPU) and the Association de promotion et défense de la recherche en français (ACFAS), during a webinar that was held on June 9, 2021, in connection with the Sommet sur le rapprochement des francophonies canadiennes.
Moderated by François-Olivier Dorais, Professor of History at Université du Québec à Chicoutimi, this nearly two-hour-long webinar brought together dozens of participants and panelists, who provided an overview of post-secondary education in French in minority and remote contexts in Canada.
For Jean Bernatchez, Professor in Education Sciences at Université du Québec à Rimouski, the various crises that we are currently experiencing lead us to examine this subject in greater depth and to implement original and ambitious strategies through the network-based development of training programs characterized by a transdisciplinary approach.
According to Karl Bélanger, Political Advisor at the CAUT, a worrisome development that could have a spill-over effect throughout the country is "Laurentian University's decision, which was the first of its kind in Canada, to use the Companies' Creditors Arrangement Act (CCAA)." While it is debatable whether Laurentian University should have chosen to use this law, which was designed more for corporations, "what is receiving less attention is the political choice of the federal and Ontario governments not to intervene before Laurentian University declared insolvency."
Sophie Montreuil, Executive Director of ACFAS, is of the opinion, furthermore, that it is "crucial for research to be carried out in French, so that researchers as a group will develop a Francophone expertise, with a precise, well-developed and fundamental vocabulary for talking about their research in the media and in classrooms at different educational levels." She added that ACFAS has recently published a report making a number of recommendations for the future of research in minority contexts in Canada.