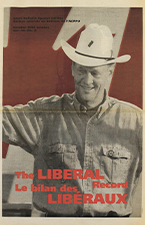 Federal policies create crisis in university research funding
Recent federal government policies have clearly precipitated a funding crisis in university research — this despite a century of commitment at Canadian universities to both basic and applied research projects.
Canada is still behind most Organization for Economic Co-operation and Development countries in its R&D performance, particularly the Scandinavian countries and the Netherlands.
The National Research Council began funding university research towards the end of World War I. After World War II there was a dramatic increase in the scope of university research.
The federal government recognized the importance of science in the war effort and realized the postwar economy would rely heavily on research and development as well as needing a concomitant increase in knowledge about Canadian society, its successes and its ills.
The postwar years saw the creation of the three federal research councils which have been the key engine in the development of university-based research in recent decades. The councils themselves are highly regarded around the world, and they have helped to make Canadian research internationally competitive.
Research and development was much debated during the Mulroney years. The Conservatives maintained the funding of the federal research councils. However, they seemed to lack a coherent plan to guide their research policy.
When the Liberals came to power, they launched a full-scale review of Canada's science and technology policies. CAUT welcomed this and participated at all levels. There was then nothing but silence.
__________________________________
To read the full article that appeared in the CAUT Bulletin October 1996 issue visit bulletin-archives.caut.ca.