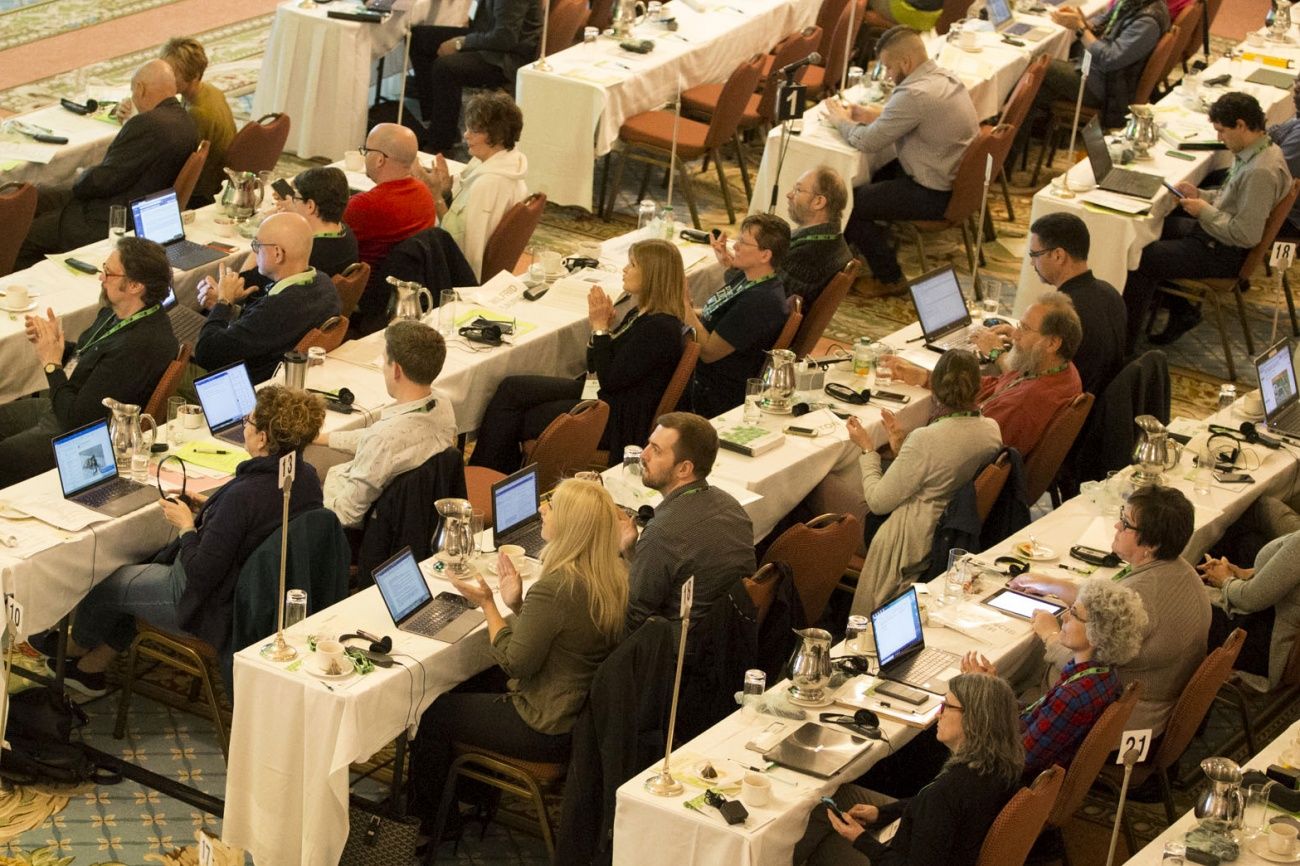 Canada has the appearance of being on the right track when it comes to climate change and what to do about it. A cursory examination of recent headlines reveals not just our country's staunch defense of the veracity of climate change science and of the Paris accord, but also our government's significant climate policy changes made through the Pan-Canadian Framework on Clean Growth and Climate Change — an agreement between federal, provincial, and territorial governments to reduce emissions — which was published last December.
Add to that the near-constant climate change denial flowing from US President Donald Trump's administration, his executive order undoing Obama-era climate change regulations in the US, a rejection of the Paris accord, and the fact that the words "climate change" have disappeared completely from the White House website, and you would be excused for feeling a bit smug.
President Trump even ordered the Environmental Protection Agency to scrub its climate-change web page in January, and update it to reflect yet another of his executive orders, this one on "Energy Independence."
But while the American antics may be seen as disturbing, it turns out that a closer examination of Canada's record isn't completely reassuring.
Take, for instance, a report of Environment and Climate Change Canada, the federal agency tasked with reducing Canada's greenhouse gas emissions. The report's recent conclusion that we will make little to no progress — even in the best-case scenario — towards meeting our admittedly ambitious Paris accord reduction targets may come as no surprise as we witness expanding production out of Alberta's oil sands.
And then there's Germanwatch's Climate Change Performance Index that currently places Canada 52nd out of the world's 58 top CO2 emitting nations, in a ranking that evaluates and compares the climate protection performance for the nations that are collectively responsible for more than 90 per cent of global energy-related CO2 emissions.
According to the index, "Canada remains in the bottom group of most CCPI categories. The only sector where the country ranks in the middle field is the emissions development but even there it lost some ground, still struggling with the consequences of the sluggishness of its former government."
That puts us behind both China and the US, a somewhat ironic fact not lost on researchers with the Sustainability and Education Policy Network who've recently published their findings on climate change and Canadian post-secondary institutions.
As noted by the authors, countries with natural resource-driven economies like Canada "have developed quite sophisticated strategies to avoid modernizing their economies, to make them more efficient, climate friendly and sustainable in order to protect less sustainable forms of industrial modernity." They juxtapose their observation with a bald fact: "Anthropo­genic climate change is an emergent and pressing concern, and its impacts will extend into the future."
The questions for Canada's higher education system then burgeon: is this assessment also true of the campus microcosm? And if so, what are we doing about it? These are tricky questions to answer definitively, but the authors suggest that "with many climate research projects either based in or partnered with Canadian post-secondary institutions, the governance of higher education research may be particularly vulnerable to an anti-reflexive politics of climate change denial."
With systematic analysis on climate change in education policy sparse to date, the group's research sought to address the gap and discover how Canadian post-secondary institutions are grappling with climate change through policy actions.
In the representative sampling of 50 institutions, the key findings are telling: less than half (44 per cent) have climate change-specific policies in place; those policies focus most often upon the built-campus environment with "underdeveloped secondary responses" to research, curriculum, community outreach and governance policies; and the "overwhelming" response of modifying infrastructure and curbing energy consumption and pollution, while important, risks masking deeper social and cultural dynamics which require addressing.
"We weren't particularly surprised when we found a disproportionate focus on operations in climate change policies in the sample institutions," says co-author Marcia McKenzie, director of the Sustainability Education Research Institute at the University of Saskatchewan and principal investigator of the SSHRC-funded SEPN project.
"The findings point to how we conceptualize sustainability. Our sustainability solutions tend to focus on technological solutions and we tend not to think of how sustainability issues are often cultural."
She notes that institutions have a "lot more control over modifications to facilities. Retrofitting buildings is much easier than shifting the culture of the entire institution. But at this point, we can't rely only on installing low flush toilets or more energy efficient windows. Higher education could be playing a much stronger role in impacting attitudes and behaviors by incorporating a sustainability focus in research, curriculum and community engagement."
As individuals, though, it can seem overwhelming to think about driving the shift in thinking needed to move forward from the culturally-entrenched and somewhat truncated approach to date, to a systemic view of sustainability that consistently highlights climate change not just in the context of the built campus environment, but also within research, curriculum, community outreach efforts and governance policies.
While that may be the case, academic staff are uniquely positioned to play the part of such drivers, says CAUT executive director David Robinson.
"Academic staff enjoy extraordinary legitimacy in the eyes of Canadians. Such credibility lends both the power and the responsibility to forcefully present the case for climate change action," he maintains.
"Our planet is already beginning to suffer from changes that the next generation will inherit — and there will be catastrophic environmental, economic and social consequences without a doubt. But there are practical and concrete actions that staff and faculty associations can take. It is incumbent on us to act now."
CAUT advises as a first step to identify if any sustainability efforts are in place on your campus, and if climate change is referenced within institutional strategic plans.
McKenzie and her fellow researchers found that most strategic plans either don't reference sustainability at all, or give it scant attention.
"Strategic planning cycles are a great opportunity for institutions to reflect on their current activities and re-envision their futures in relation to sustainability," she says. "We recommend that institutions consider 'transformative' institutional responses, which reorient educational purposes and paradigms to be better in line with sustainability values, which in Canada should include Indigenous perspectives."
McKenzie believes that successfully integrating sustainability into all the core areas of institutional activity — governance, curriculum, operations, research, and community outreach — means sustainability becomes an emergent property of the institution's activities.
A few Canadian institutions are forging ahead in specific domains outside of operations. McKenzie points to the University of Saskatchewan's Climate Action Plan which takes a novel approach to addressing sustainability in curriculum through activities such as an inventory of climate change-related courses and examining how sustainability issues are integrated into curriculum across the institution.
"However, we really haven't seen any institutions standing out at the policy level in terms of adopting holistic, transformative sustainability approaches. There is room for growth on everyone's part," she concludes.