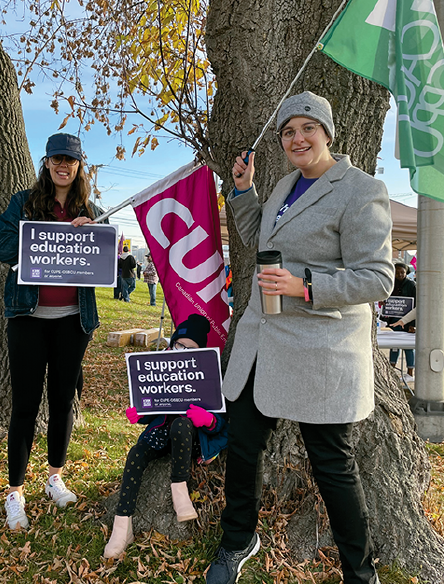 By CAUT Staff
On November 16, CUPE served the province a five-day strike notice after discussions fell apart.
In a recent update on CUPE's website Laura Walton, president of CUPE's Ontario School Board Council of Unions, said "It's incredibly disappointing that the Ford government categorically refused to put money on the table to give students the type of learning environment they need."
CUPE's 55,000 education workers had returned to the bargaining table and returned to work following the Ontario government's decision to rescind Bill 28. This unprecedented and draconian legislation overrode workers' rights and freedoms under the Charter and the provincial Human Rights Code.
Earlier this month, CUPE's 55,000 workers, including support staff, education assistants, early childhood educators, caretakers, and their supporters, joined rallies across the province to protest the bill that was passed by the Ontario government, imposing a four-year contract on the workers, prohibiting job action, and invoking the notwithstanding clause of the Constitution to prevent any legal challenge. The union reported that the government's law had set fines for violating the education-worker legislation at a maximum of $4,000 per employee per day and up to $500,000 per day for the union. CUPE's education workers provide essential support in schools but earn on average just $39,000 per year.
CUPE's news update from November 16 stated that CUPE's Ontario School Boards Council of Unions (OSBCU) central bargaining committee had reached a "middle ground" with the province and the Council of Trustees' Associations (CTA) on wages. "Despite that progress, the government refused to invest in the services that students need and parents expect, precipitating this escalation."