Every month we send our supporters a newsletter with the latest CAUT and post-secondary education sector news. This newsletter was published on March 23, 2022. Subscribe to get the newsletter straight to your inbox.
In this issue
ULFA ratifies new agreement, ending historic strike
Academic staff at Université Sainte-Anne on strike
Chief negotiators share best practices
Urgent Appeal: Solidarity with Ukraine
Upcoming Events
---
ULFA ratifies new agreement, ending historic strike
The University of Lethbridge Faculty Association (ULFA) announced on March 21 that members have ratified a new collective agreement, ending a five-week strike.

ULFA entered discussions with the University of Lethbridge board of governor's negotiators last week, for the first time since the strike and lock-out that started on February 10.  It was ULFA's first-ever job action.

"It is an agreement that we can be proud of," said Dan O'Donnell, president of ULFA. "It is not what we would want to see in terms of finances because of extreme meddling on the part of the provincial government but is now in line with others in the sector.  Importantly, we've made major gains in terms of equity, diversity and inclusion."
 
In ratifying the agreement, ULFA members expressed frustration with provincial interference in the negotiations.

"I voted yes to the #ULFA deal but I did it with a heavy heart," said one member on Twitter over the weekend. "The job action built a lot of solidarity b/c interference from UCP [the provincial government] was absolutely the breaking point for many of us."
---
Academic staff at Université Sainte-Anne on strike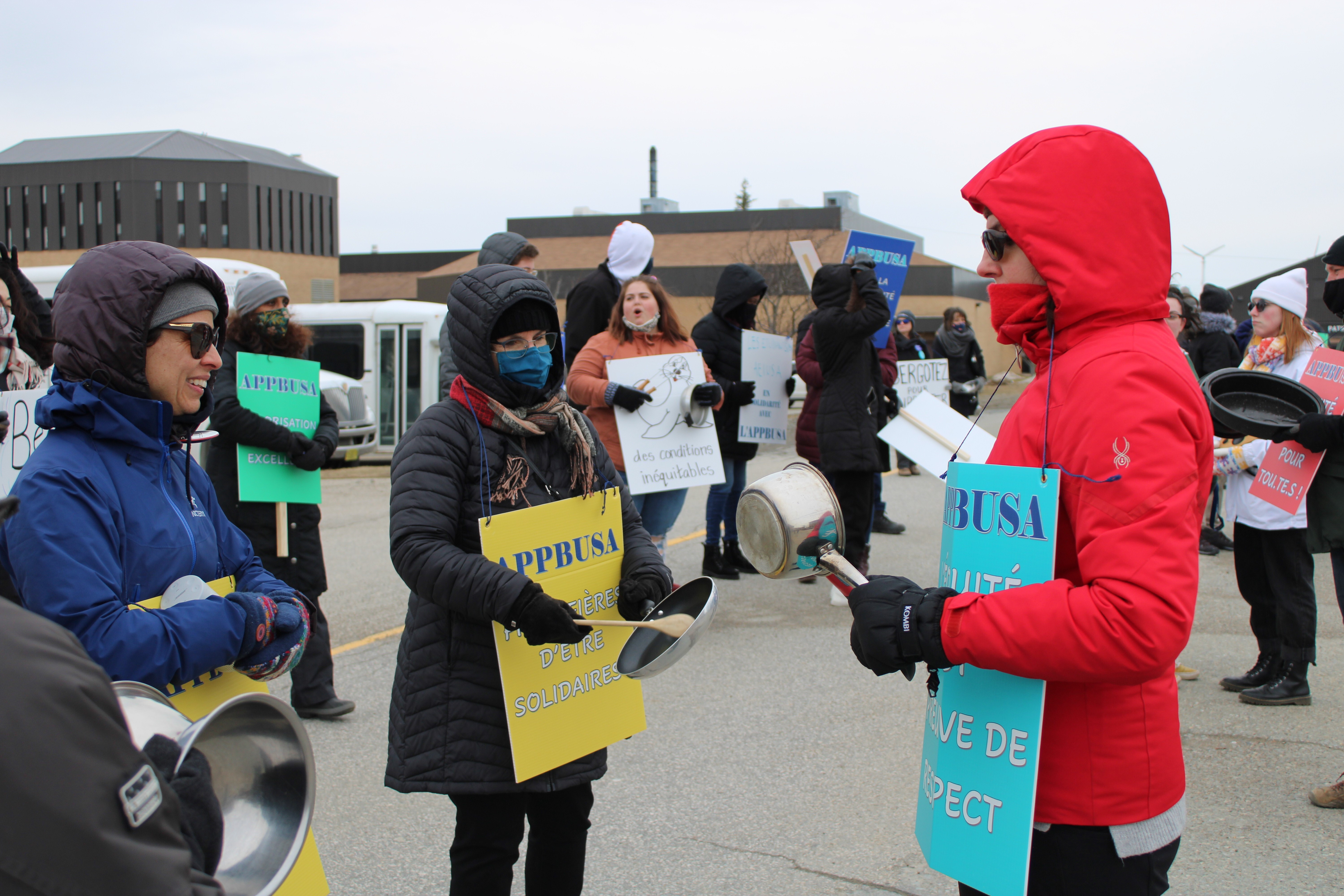 Supporters of the Association des professeurs, professeures et bibliothécaires de l'Université Sainte-Anne (APPBUSA) rallied at the University's Halifax campus earlier this month to call for the administration to return to the bargaining table.

Faculty and librarians at Université Sainte-Anne—the only French-speaking university in Nova Scotia—are fighting for better working conditions, pay equity with academic staff across the province, and a healthier working relationship between academic staff and the administration.

APPBUSA began its first ever strike on March 3, after eight months of bargaining.

In a statement, APPBUSA expressed disappointment and frustration at the administration's refusal to consider its proposals and negotiate an end to the labour dispute.

CAUT President Brenda Austin-Smith and members of the CAUT Defence Fund members joined the picket lines to show solidarity and support the striking academic staff.

CAUT is asking members to send letters to Université Sainte-Anne's president and senior leadership through its online campaign – Stand with Striking Academic Staff at Université Sainte-Anne.
---
Chief negotiators share best practices
Last Friday over 55 negotiators from member associations across the country met online for CAUT's Forum for Chief Negotiators.  In the context of the ongoing COVID-19 pandemic, they discussed building resiliency in associations and collective agreements.

Participants heard from colleagues on strategies used for bargaining during the pandemic, and shared ideas and best practices on topics including strengthening health and safety rights, protecting collegial decision-making, strike preparation in a pandemic and bargaining to address workload.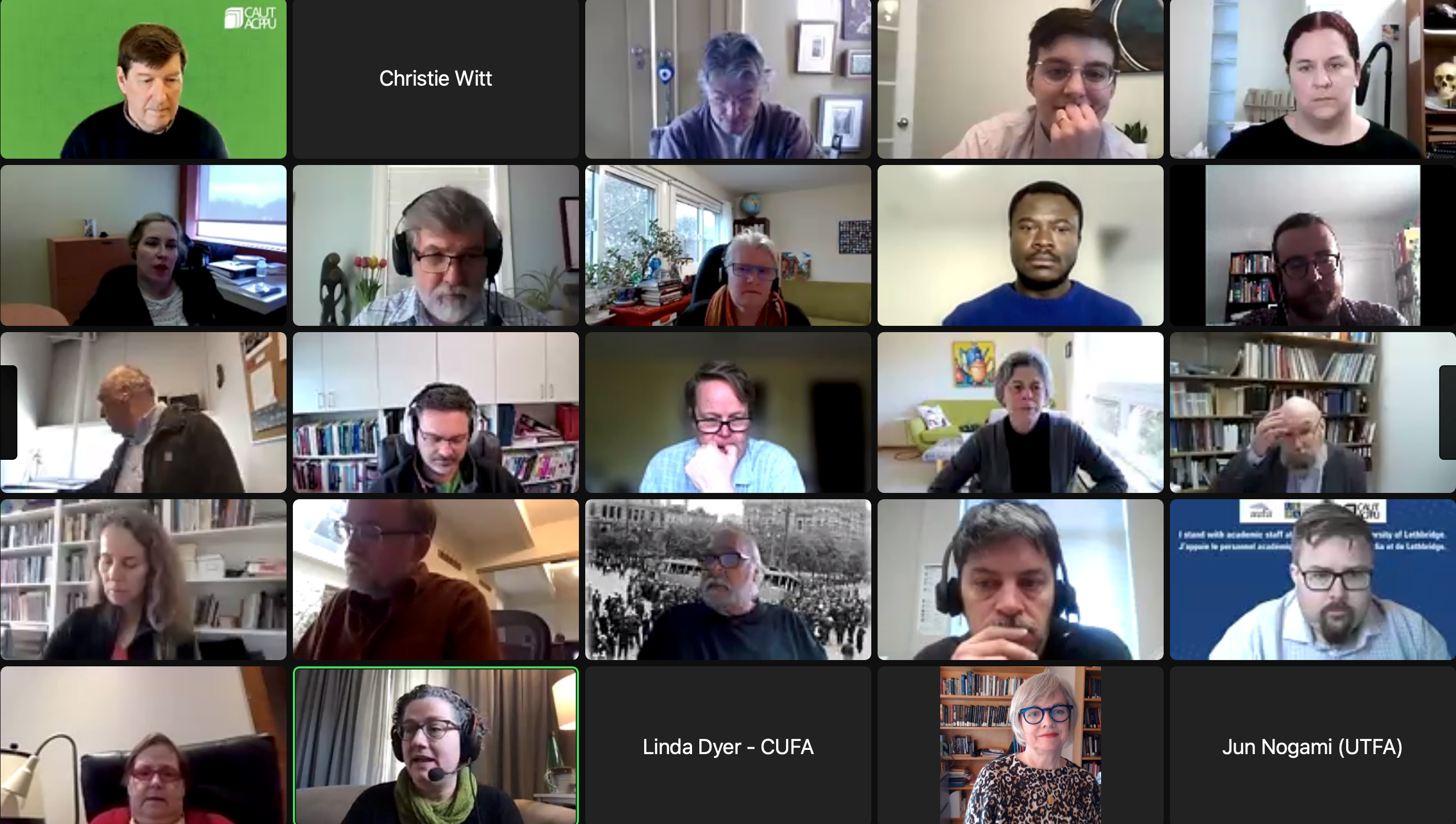 ---
Urgent Appeal: Solidarity with Ukraine
The Canadian Association of University Teachers has joined Education International in standing in solidarity with students, teachers, academics, and the people of Ukraine to condemn Russia's horrific invasion. CAUT is urging the Canadian government and the international community to step up efforts to provide humanitarian assistance to those affected by the violence, and to increase the pressure on the Russian government to immediately withdraw its forces from Ukraine.

Education International is working closely with its Ukrainian member organizations, the Trade Union of Education and Science Workers of Ukraine (TUESWU) and the Free Trade Union of Education and Science of Ukraine (VPONU). Trade unions in neighbouring countries are also supporting the growing number of Ukrainian refugees, providing food and water provisions, medical supplies and hygiene items.

CAUT member associations who wish to assist TUESWU and VPONU members who are in still in Ukraine or those forced to flee can send contributions to Education International's TUESWU and VPONU Solidarity Fund to the following account:
 
Education International
ING Bank
24, Avenue Marnix
1000 Brussels 
Belgium
Account number: 310-1006170-75 
IBAN code: BE05 3101 0061 7075
Swift code: BBRUBEBB
With the following label: TUESWU and VPONU

The CAUT Executive Committee has committed an initial $5,000 to the fund and strongly encourages members to also support this important work.
---
Upcoming Events
CAUT Council meeting in April
The CAUT Council meeting will take place Thursday, April 28 and Friday, April 29, 2022, from 12:30 pm to 5:30 pm (Eastern time). The Council meeting will be held both in-person and online.

Any questions about the meeting should be directed to Marcel Roy, CAUT Meeting and Event Planner, at roy@caut.ca.