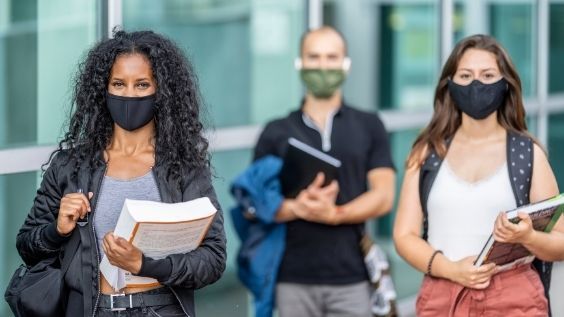 (Ottawa, August 10, 2021) Vaccination requirements for university and college students and staff against COVID-19, if implemented reasonably and fairly, should be considered as part of a comprehensive plan to ensure a safe return to campus, says the Canadian Association of University Teachers (CAUT).
"Universities and colleges are at high-risk for the spread of COVID-19 because of the high number of people studying and socializing in close quarters, and the presence of a large percentage of 18- to 29-year-olds on campuses who are lagging behind in rates of vaccination," says CAUT executive director David Robinson. "If they are planning to return to in-person instruction, institutions have an obligation to consider all reasonable measures they can take to reduce the risk."
Robinson says provincial governments should provide more direction on vaccination requirements for all at-risk settings, but that in the absence of this universities and colleges should still consider vaccination requirements as part of a suite of measures to protect the safety of everyone on campus.
"The best available science tells us that vaccines are effective in reducing transmission and the severity of infection, that very high vaccination rates are required to achieve herd immunity, and that the growing community threat from the Delta variant of the virus is best managed by widespread vaccination."
Mandatory vaccine policies raise several legal issues, Robinson notes, but these can be addressed if specific policies are fair, reasonably applied, respectful of human rights and privacy laws, and consistent with any negotiated collective agreement with campus unions and employee associations.
"For those institutions that are re-opening this September, mandatory campus vaccination policies can be justified if human rights accommodations are followed; if the unvaccinated are accommodated through masking, physical distancing, or working or studying from home; and if all legal privacy issues are fully respected."
Robinson also says that vaccination policies should not replace other measures necessary to reduce the risk of transmission, including masking, physical distancing, testing, and ventilation upgrades. Local Joint Health and Safety Committees, academic staff associations, and campus unions must be involved in all decision-making around re-opening, including the development of any vaccination policy.
According to information compiled by CAUT, more than 40% of the country's universities and colleges are planning to return to in-class instruction next month. About 21% are requiring students living in residence to have received at least one vaccine dose. Seneca College and the University of Ottawa are the only institutions to date requiring all students and staff to be vaccinated. University of Waterloo is requiring students to "self declare" their vaccine status. 
CAUT is the national voice of 72,000 teachers, librarians, researchers, general staff and other academic professionals at 125 universities and colleges across the country.