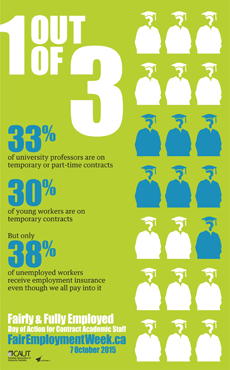 Today, contract academic staff across Canada are demonstrating how fed up they are with precarious, low-paid contracts.
"There are thousands of professors and academic staff employed on short-term and temporary contracts at low pay and who cannot fully participate in all aspects of academic work," said Robin Vose, President of the Canadian Association of University Teachers. "This is unfair and short-sighted."
This year, CAUT is joining trade unions around the world on the World Day for Decent Work to demand decent jobs and respect for workers' rights. Like other sectors, academic work is becoming increasingly short-term, with low pay and few benefits.  
"Most contract staff are paid only for their time teaching," said Vose. "Because their work is precarious, their academic freedom is vulnerable. All academic staff should be fairly and fully employed."
CAUT supports all those in precarious work, including many students and recent graduates, and calls for the improvement of working conditions, job security, and access to social protections for all workers.
For more information on the campaign and local events, click here.
Media contact:
Angela Regnier, Communications Officer, Canadian Association of University Teachers; 613-726-5186 (o); 613-601-6304 (cell)