January 17, 2020 at 8:00am

-

January 18, 2020 at 5:30pm
Delta Ottawa Hotel
101 Lyon Street N.
Ottawa, ON K1R 5T9
Forum Overview

This event is an opportunity for the leadership of academic staff associations to meet peers from across Canada, share high level discussion on key political and organizational challenges, and build networks of contact and support — all with the goal of strengthening our ability to advance the interests of our members. Through presentations and plenary discussions, this year's Forum will explore recent bargaining trends, legal developments affecting academic staff, handling employer requests for medical information of members, advancing equity, promoting collegial governance, and exploring debates about free speech and academic freedom on campus.
Registration

Registration is now open. Click on the "register" button to proceed.
Hotel Accommodation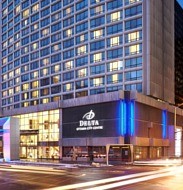 Delegates are required to make their own hotel reservations directly with the Delta Ottawa Hotel. It is imperative that reservations be made no later than Monday, December 16 cut-off date. 
Hotel reservations can be made on-line by clicking on the hotel image or by contacting the Delta Ottawa Hotel at 613-237-3600 or 1-888-236-2427 and mentioning the "Forum for Presidents" to obtain preferred rates starting at $179.00/night (Traditional guest room).
Travel
CAUT will cover the cost of transportation to Ottawa for one delegate per association. Air travel should be booked as soon as possible to take advantage of the lowest fares, but no later then Monday, December 16. CAUT policy is to use unionized air carriers unless there is no other option available. Airline reservations must be made directly with CAUT's travel agency, W.E. Travel.
How to contact WE Travel:
1-888-676-7747 (Ottawa Location (E.S.T) /Monday to Friday, 9am to 5pm)
1-800-663-4703 (Vancouver Location (P.S.T) / Monday to Friday, 9am to 5pm)
E-mail Lorna Parent @ lorna@wetravel.net
W.E. Travel will require the booking code (6-5420) in order to make travel reservations and they will bill CAUT directly.