March 20, 2020 at 8:00am

-

March 21, 2020 at 5:00pm
Delta Ottawa Hotel
101 Lyon Street N.
Ottawa, ON K1R 5T9
Forum Overview

// The Forum is an important opportunity for chief negotiators to develop new skills and to share strategies and experiences with colleagues across the country.
Registration

Associations are welcomed to register one delegate to attend. Associations wishing to register more than one member for the forum should contact Marcel Roy at roy@caut.ca to ensure space availability.
– Registration is now open. Click on the "register" button to proceed.
Hotel Accommodation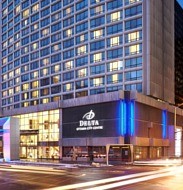 Delegates are required to make their own hotel reservations directly with the Delta Ottawa City Centre Hotel. It is imperative that reservations be made no later than Wednesday, February 19 cut-off date. 
Hotel reservations can be made online by clicking on the hotel image or by contacting the Delta Ottawa Hotel at 613-237-3600 or 1-888-236-2427 and mentioning the "Forum for Chief Negotiators" to obtain preferred rates starting at $179.00/night (Traditional guest room).
Travel
CAUT will cover the cost of transportation to Ottawa for one delegate per association. Air travel should be booked as soon as possible to take advantage of the lowest fares, but no later then Wednesday, February 19. CAUT policy is to use unionized air carriers unless there is no other option available. Airline reservations must be made directly with CAUT's travel agency, W.E. Travel.
How to contact WE Travel:
1-888-676-7747 (Ottawa Location (E.S.T) /Monday to Friday, 9am to 5pm)
1-800-663-4703 (Vancouver Location (P.S.T) / Monday to Friday, 9am to 5pm)
E-mail Lorna Parent @ lorna@wetravel.net
W.E. Travel will require the booking code (6-5415) in order to make travel reservations and they will bill CAUT directly.