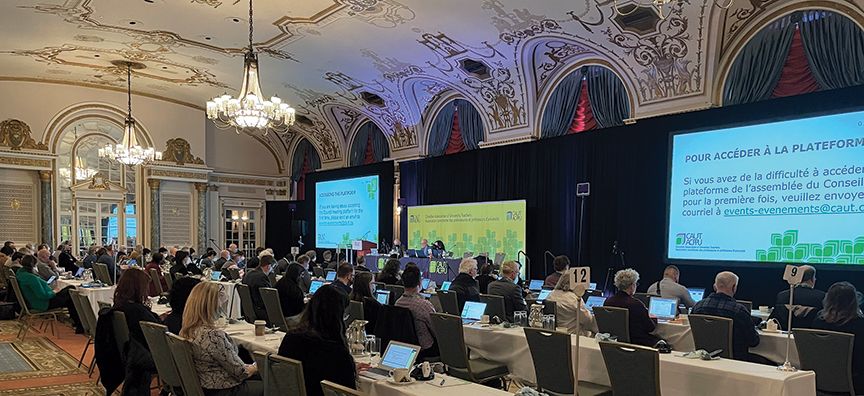 On April 28 and 29, 2022, delegates to Council met in its first-ever hybrid meeting—about 100 delegates in person and 100 delegates online—to discuss priorities, elect new leadership and celebrate the collective achievements of members.
---
Strong job action celebrated by outgoing CAUT President
During her opening remarks, outgoing CAUT President Brenda Austin-Smith paid tribute to the six faculty associations that embarked on well-organized job actions in recent months, despite strong opposition from administrations and meddling by provincial governments.
Leaders from the six associations—Acadia University Faculty Association, Concordia University of Edmonton Faculty Association, University of Lethbridge Faculty Association, University of Manitoba Faculty Association, University of Ontario Institute of Technology Faculty Association, and the Association des Professeurs, Professeures et Bibliothécaires de l'Université Sainte-Anne—shared with delegates some of the high points and challenges of the recent strikes.
---
CAUT elects new leadership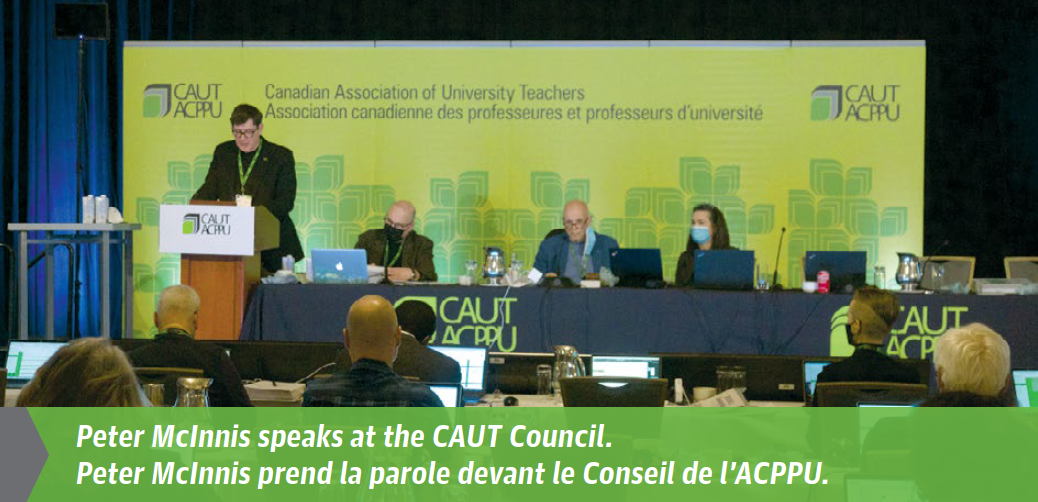 Delegates to CAUT's 92nd Council elected new leadership for 2022-2023.
"We are coming out of the pandemic stronger than ever, having learned through six recent strikes the importance of solidarity," said Peter McInnis, CAUT's newly elected President, and a professor of history at St-Francis Xavier University in Nova Scotia. "Post-secondary education is worth fighting for—not only for our profession, but for the future of our country and our democracy. This a moment of opportunity, and we should embrace it."
Robin Whitaker, an anthropology professor from Memorial University in Newfoundland, was elected Vice-President. Yalla Sangaré from Université Sainte-Anne was re-elected as Treasurer.
The full membership of the CAUT Executive Committee for 2022-2023 is available on the CAUT website.
---
Companies' Creditors Arrangement Act is 'anti-worker'
CAUT Executive Director David Robinson presented the findings of a CAUT commissioned study, Restructuring Publicly-Funded Universities: A Report on the Laurentian Insolvency Proceeding with Issues and Options for the University Sector. He told delegates that the main takeaway from the report is that the Companies' Creditors Arrangement Act (CCAA) is not the field on which labour can successfully fight to protect its members because the legislation is fundamentally "anti-worker".
The report concludes that the CCAA largely displaces labour relations norms and processes, and therefore affords the employer a "significant" advantage and forces employees to make big concessions. The report noted that in the case of the Laurentian proceeding, the CCAA process not only worked to the advantage of the University—but also the Ontario Government.
A key recommendation of the report is a strengthening of the financial exigency provisions in collective agreements. Robinson notes that the Laurentian University Faculty Association (LUFA) had strong financial exigency provisions in its collective agreement and made repeated attempts to invoke those provisions—but "the University administration deliberately decided not to work cooperatively with the Association and instead triggered an unnecessary, inappropriate, and expensive process under the CCAA."
"One way we might be able to address this is to ensure in our collective agreements language that either party can invoke the financial exigency clause to begin the process of trying to resolve the issue in a more collaborative and cooperative way," said Robinson.
CAUT commissioned the report, which was written by Simon Archer and Erin Sobat of Goldblatt Partners LLP and Virginia Torrie, associate professor at University of Manitoba Faculty of Law. 
---
CAUT members call for resignation of Laurentian U top officials​
Delegates unanimously supported an emergency motion brought forward by the Laurentian University Faculty Association (LUFA) to call for the immediate dismissal, prior to the end of the CCAA process, of all the senior administrators identified in LUFA's 2021 vote of no confidence in Laurentian University's leadership.
CAUT Executive Director David Robinson noted that the recently released Auditor General of Ontario's preliminary report concluded that the University did not have to file for creditor protection under the CCAA. "Contrary to Laurentian University misrepresentations, high faculty salaries and low course enrollments were not the primary cause of Laurentian University's financial deterioration. It was the pursuit of poorly considered capital investments, high senior administrator salaries, and expenses that negatively impacted Laurentian's financial situation."
"The senior administration deliberately chose not to work cooperatively with the faculty association and staff union to address the University's financial situation," Robinson stated. "Senior leadership withheld important financial information, and pursued an unnecessary, inappropriate, and costly process under the CCAA."
Robinson noted that as of early March 2022, the University had paid out more than $24 million to external lawyers and consultants to manage the CCAA process.
Robinson acknowledged LUFA's "extraordinary work," during the brutal and gruelling CCAA process. "LUFA's President and Executive Director fought as hard as they could 24/7 to save as many jobs in as many programs as possible when the odds were clearly stacked against us."
---
CAUT members oppose Quebec's academic freedom bill
Delegates unanimously backed an emergency motion brought forward by the Syndicat des professeurs et professeures de l'Université Laval to oppose the Government of Quebec's proposed Bill 32, An Act respecting academic freedom in the university sector.
The proposed legislation adopts a restrictive definition of academic freedom that is not consistent with the 1997 UNESCO Recommendation Concerning Higher Education Teaching Personnel.
The motion calls upon CAUT to support the demand of the Federal Council of the Fédération québécoise des professeures et professeurs d'université (FQPPU) for the Government of Quebec to review and modify the bill.
Christine Gauthier, vice-president of the Fédération nationale des enseignantes et des enseignants du Québec (FNEEQ-CSN), a federation which represents 35,000 teachers including 12,000 contract teachers in universities, highlighted the federation's support for the position of FQPPU and CAUT. FNEEQ-CSN urges improvements to the bill so that the make up of proposed university academic freedom councils include contract teachers who are often excluded from decision-making.
The bill, if adopted, will be the first to regulate academic freedom in Canada.
---
Quebec: Post-Secondary Education
Jean Portugais, the president of Fédération québécoise des professeures et professeurs d'université (FQPPU), a federation of 18 unions in Quebec, presented an overview of how the COVID crisis is accelerating change at universities and impacting collective agreement negotiations.
At McGill University, for example, professors with the Faculty of Law initiated a unionization drive—a first in McGill history—because requests for accommodation of academic staff who are at risk were ignored by the administration. FQPPU and CAUT are supporting the unionization effort.
Portugais also highlighted that many university administrations intend to continue with distance learning after the pandemic. He warns that this will have an impact on intellectual property rights of academic staff and workload.
FQPPU recently released a report on systemic racism which has become a political "livewire" as the Premier of the province refuses to recognize the concept of systemic racism in Quebec.
---
Legislative threats to teaching about the history of racism in the U.S.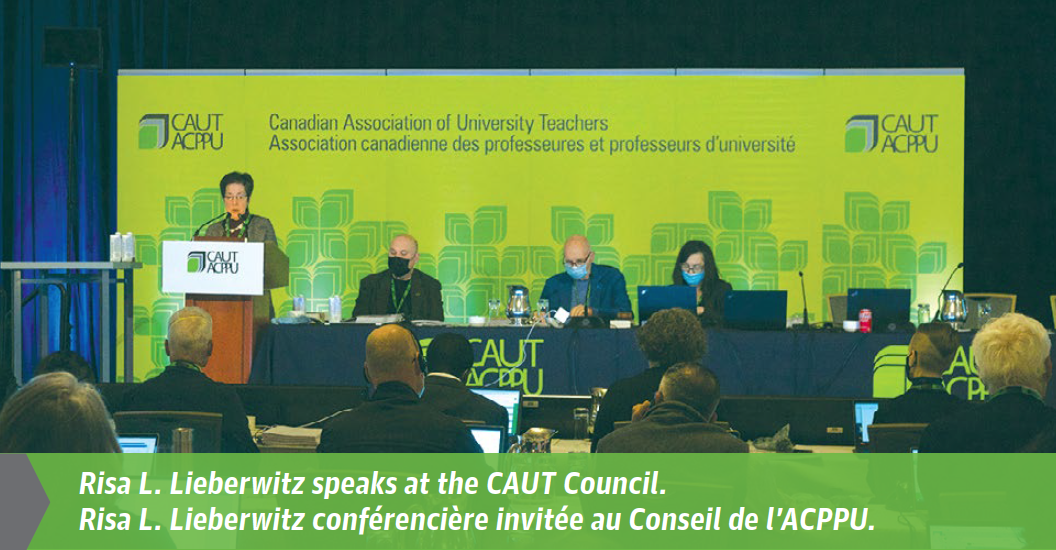 Risa L. Lieberwitz, General Counsel of the American Association of University Professors (AAUP), spoke to delegates about the current rash of state-level legislative efforts restricting the scope of teaching about sexism and racism.
Lieberwitz notes that these legislative restrictions violate academic freedom by censoring faculty, threatening their livelihoods, and creating a chilling effect on teaching, research, and public speech. In Iowa, for example, the State University warned professors to avoid assigning mandatory readings or course sessions on Critical Race Theory (CRT).
Lieberwitz said that CRT, which originated in law schools and in legal analysis, has been used as a convenient target by right-wing legislators to target those teaching about systemic racism in the U.S., as well as progressive forces, such as labour unions and social movements for equality.
She noted that legislative attacks on education are often described as "educational gag orders" because they are "nothing less than state mandated indoctrination" to stifle and censor teaching about race and racism. Educational gag orders often extend to teaching about other systemic issues such as gender-based inequalities, sexual orientation, or gender identity issues.
Lieberwitz emphasized that the response to these legislative threats must be collective. "We must use multiple tactics to prevent proposed legislation from passing and to challenge enacted legislation," said Lieberwitz.
The AAUP has formed alliances with other organizations and filed amicus curiae briefs as the legislation is challenged.
---
No confidence in Thompson Rivers University leadership
Delegates voted in favour of a non-confidence vote in Thompson Rivers University President Brett Fairbairn and Board of Governors Chair Marilyn McLean because of their refusal to put senior administrators on leave who are being investigated over allegations of racism, misogyny, sexism, and sexual harassment. At least 13 current and former employees have filed complaints alleging that two senior university officials had fostered a toxic workplace. More than 80% of the TRUFA—Thompson Rivers University Faculty Association supported a motion of non-confidence in the administration this past February. 
---
Judicial review of the Honourable D.E. Spiro and academic freedom​
On April 25, 2022, CAUT intervened in the appeal of a Canadian Judicial Council (CJC) decision not to establish a Committee of Inquiry regarding Justice Spiro's alleged interference in the appointment of Dr. Valentina Azarova as Director of the International Human Rights Program (IHRP) of the Faculty of Law at the University of Toronto. CAUT Executive Director David Robinson said that CAUT's central argument is that the CJC did not pay enough attention to the harms caused to academic freedom and institutional autonomy by Justice Spiro's actions.
---
UNESCO education conference
CAUT will be joining government representatives, student groups, and other academic staff organizations in the UNESCO World Higher Education Conference (WHEC2022), which will take place from May 18 to 20, 2022. CAUT's participation is key to ensuring that statements such as the 1997 UNESCO Recommendation concerning the Status of Higher-Education Teaching Personnel remains a strong instrument with global influence.
The conference will bring together member states, employers, unions, and civil society groups to discuss key trends and challenges, and identify new initiatives for UNESCO. In recent years, CAUT and Education International, the global federation of teacher unions, has pressed UNESCO to respond to the growth of precarious employment within the sector.
---
Award nominations
Congratulations to Dr. Sheila Embleton, Chief Steward for the York University Faculty Association, for being recommended for the Bernice Schrank Award. For the Equity Award, the Council supported Dr. Diane Piccitto, Associate Professor in the English Department at Mount Saint Vincent University (MSVU) and president of the MSVU faculty association. Both awards will be presented at the November 2022 Council meeting.