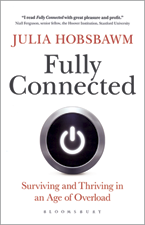 Julia Hobsbawm.
Bloomsbury, 2017; 232 pp;
ISBN: 978-1-47292-684-5.
by Michael Hohner
I retreat to a cabin, a room, to find a secluded haven. How often do I truly get this opportunity to immerse myself in reading and with thoughts and ideas? To be separated from that mere possibility of chance and casual togetherness with my device in hand and actually be alone? No Wi-Fi here, and my divisive device truly needing to be left at home, but leaving my phone out of the room seems the smarter thing to do. It still does call to me, like some drug for which
I need a fix. I feel neurotic and find it difficult to focus. Lines are often blurred in so many ways. We connect and don't connect. Things that should be in the periphery become that proverbial elephant in the room. I'm still thinking about it (that thing) and not enough about the book that I stare at and the review I'm to write…
In Fully Connected, Hobsbawm provides a better route toward being more fully connected, by looking at the dysfunctionality of our many typical fully connected lives and toward rebuilding a much better blended self that cannot only survive, but also thrive in age of constant connective overload. She is careful not to oversimplify the issues, stating that we often connect with people at multiple levels within a hierarchy of communication, but that incontrovertibly trust comes from our physical selves and presence, and not proxies.
We can find ourselves too ruled by our devices with no time to truly disconnect, and refocus our energies. Connected everywhere and anywhere and yet not really connected to anything or truly connecting to anyone. There is no separation in our connected world, so we need to find a way to understand it better and manage it better to be fully connected. Individuals and institutions share the same problems, we are at full capacity. Hobsbawm explores the idea of social health in this book, taking it as a metaphor for social connectedness. She looks at what it means to balance face-to-face and electronic connections in a way that manages flows of knowledge, networks and time.
Social health is profoundly knowing who and what to connect with, and also the incredible value in disconnecting. This then becomes part of a healthy culture — a mindset and behaviour — for both individuals and organizations. Our technology has certainly evolved more quickly than we humans have, as Hobsbawm argues, and the shift from fad to cultural norm has been blurred severely and far too quickly.
Fully Connected is useful to those with a general interest, but should certainly be read by management and business administrators, in trying to simplify the complicated connected life we all face, especially in the workplace. The book draws from an extensive bibliography, and, for the most part, Hobsbawm does very well in presenting ideas in a meaningful way to illustrate the issues and frame the discourse toward resolutions to this modern endemic we all face. There are personal anecdotes that seem somewhat self-centered at times and perhaps detract from the book, but overall the stories are memorable and authentically illustrative of the ideas and points being made.
While everyone has plenty on their reading lists, I would recommend people drop their digital devices for a moment to give Fully Connected a read. The thoughts presented have helped me to be more focused at work and in my personal life, and I'm far less likely to be sucked into the drama on Twitter or echoing the latest meme on Facebook. Becoming more fully connected takes the right mindset, and this book provides much-needed ideas and techniques for being more mindful and aware.
____________________________
Michael Hohner is a librarian at the University of Winnipeg.