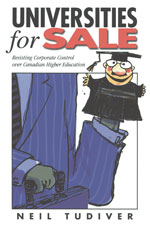 The Canadian Association of University Teachers releases the first book in its monograph series — Neil Tudiver's Universities for Sale: Resisting Corporate Control over Canadian Higher Education.
Canadian universities are being forced to defend themselves against an aggressive campaign being waged by business. Dr. Tudiver shows how erosion of the traditions of scholarly independence and academic freedom has accelerated to a point of crisis. Will corporations drive our universities? Or will embattled professors find new allies willing to defend free inquiry against the pressures of economic expediency?
"Universities for Sale provides an excellent account of the long and necessary struggle to unionize Canadian campuses. It should be required reading for anyone concerned about the preservation of public education in Canada." — Buzz Hargrove
Universities for Sale sells for $19.95. It is available in book stores, or can be ordered from the publisher by phoning 1-800-565-1975.