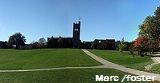 Librarians and archivists with the University of Western Ontario Faculty Association have voted 98 per cent in favour of strike action.
"I want to thank the members for their overwhelming support," said Kristin Hoffmann, president of UWOFA. "It will empower the negotiating team to work toward the best contract possible as we enter conciliation next week."
If conciliation is not successful, UWOFA's Board of Directors is now authorized to call a strike when and if it is deemed necessary.
"UWOFA remains hopeful that a fair and equitable settlement can be reached through the conciliation process," added Hoffman.