Inaugural Bulletin message from the President*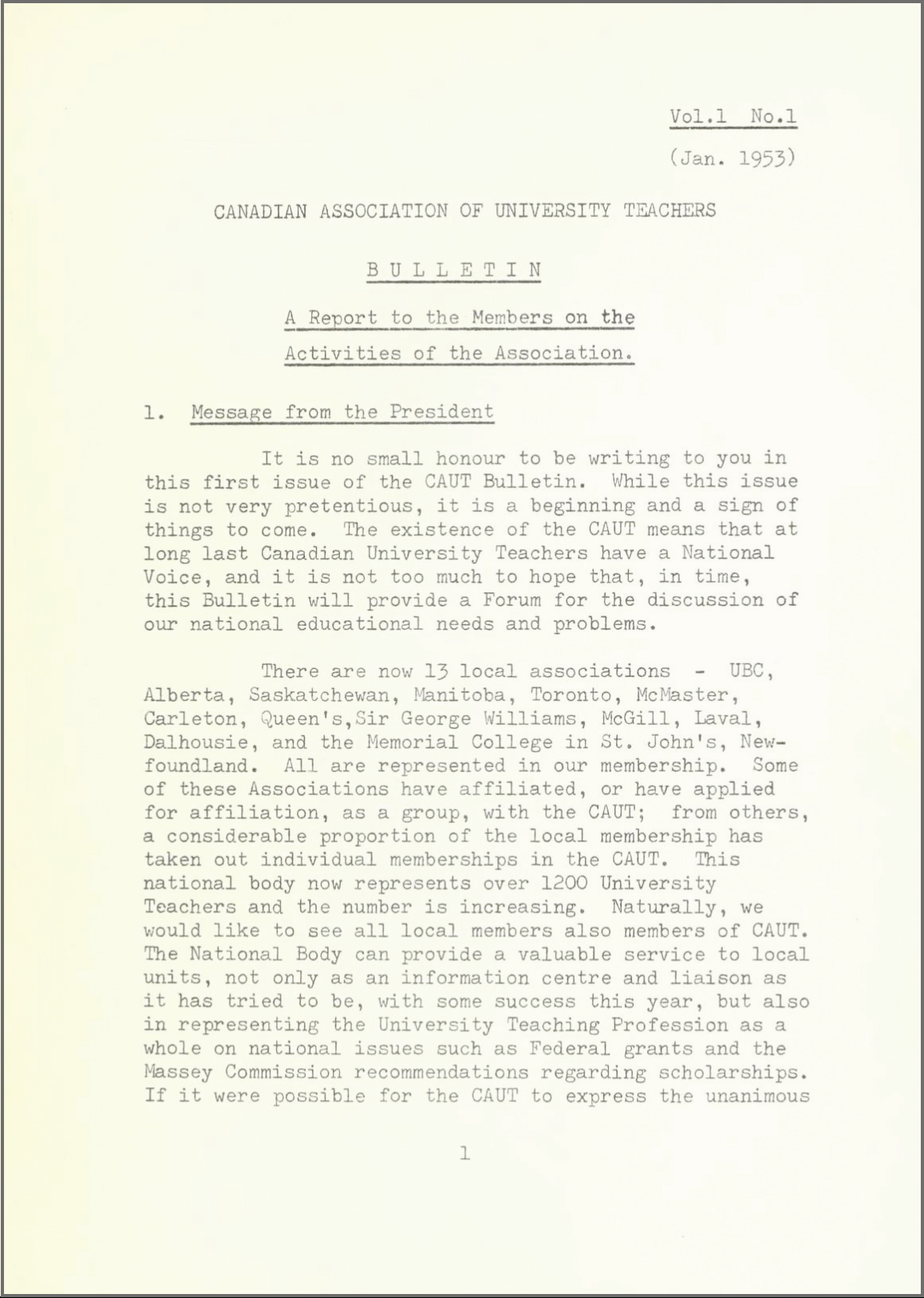 It is no small honour to be writing to you in this first issue of the CAUT Bulletin, which, while not very pretentious, is a beginning and a sign of things to come. The existence of the CAUT means that at long last, Canadian University Teachers have a National Voice, and it is not too much to hope that, in time, this Bulletin will provide a Forum for the discussion of our national educational needs and problems.
There are now 13 local associations — UBC, Alberta, Saskatchewan, Manitoba, Toronto, McMaster, Carleton, Queen's, Sir George Williams, McGill, Laval, Dalhousie, and the Memorial College in St. John's, Newfoundland — representing over 1200 University Teachers. Naturally, we would like to see all local members also members of CAUT. If it were possible for the CAUT to express the unanimous opinion of two or three thousand University teachers, its pronouncement on such matters would carry much weight with those in high places.
What goes on in Canadian Universities is pretty much up to us. As individuals, we always have the choice of selling our souls or keeping them. As a member of a group, however, the more we maintain our integrity, the stronger the group becomes and the greater the probability that its just demands will be met.
__________________________________
*F.S. Howes was CAUT's first President. To read the full article that appeared in the CAUT Bulletin January 1953 issue visit www-archive.caut.ca.
The University of British Columbia Faculty Association turned 100 years strong on October 29!
Happy birthday to Canada's oldest faculty association, and a founding member of CAUT.