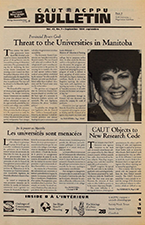 In the spring 1996, the Manitoba government introduced Bill 32 which is designed to increase dramatically the power of the politicians over the internal functioning of Manitoba's universities. The government is doing this by abolishing the University Grants Commission and creating a new Council on Post-Secondary Education which will be much more under the thumb of the Minister of Education and Training than its predecessor.
"It is remarkable," said Prof. William Bruneau, the President of CAUT, "that conservative governments such as that in Manitoba preach a doctrine of reducing government and getting it off the backs of people and then develop legislation to allow the politicians and bureaucrats to micromanage the universities."
The Manitoba Organization of Faculty Associations, which represents the faculty associations in the four universities in the province, is orchestrating resistance to this legislation. It has proposed alternative reforms which among other matters would restructure the Council so that it would have equal numbers of government appointees and elected representatives of the post-secondary institutions. The President of CAUT has assured the Manitoba organization of national support in its fight.
__________________________________
To read the full article that appeared in the CAUT Bulletin September 1996 issue visit bulletin-archives.caut.ca.