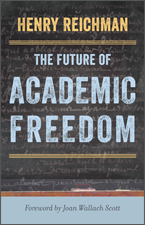 Henry Reichman.

John Hopkins University Press, 2019; 376 pp;

ISBN: 978-1-42142-858-1
by Len Findlay
Just as we have much to learn in Canada from our southern neighbour's historical and current populist travails, we also have lots to learn from the fate of more particular contentious freedoms and libertarian currents in the American academy. Henry Reichman's fine book needs to be read and discussed by Canadian academics with and an eye for shared concerns and distinctive obligations and predicaments. The author is a proud and accomplished member of the academic left. Refreshingly free of vanguardism, but deeply convinced of (and convincing on) the strengths and vulnerabilities of academic freedom in his unevenly admirable homeland, he casts the chapters gathered here as responses to aptly searching questions. He writes as an academic historian, supported by a fellow historian, the redoubtable Joan Scott, demonstrating the capacity of that discipline's values and methods to critique the clamorous presentism, convenient amnesia, and brazen mendacity of a Trump presidency inimical in almost all respects to academic values and traditions. For anyone concerned with resurgent anti-intellectualism and its crudely targeting activities in Canada, both provincially and federally, there is much to reflect on here.
Professor Reichman demonstrates in his series of case studies that academic accomplishment and academic activism (including trade union activism) are complementary components of intellectual work understood as the twinning of the instrumental and the aspirational in the service of knowledge responsibly produced, incessantly challenged, and freely and effectively communicated. He does a superb job of documenting and analyzing academic idiocy proposed and perpetrated mostly by senior administrators, boards of trustees, governments, and corporate donors. Joan Scott's Foreword strikes notes of candour, insight, and defiance that echo through Reichman's, rich, unyielding prose. Scott names and vilifies "a concerted right-wing campaign to discredit higher education," and places much of the blame on Trump and his supporters. Reichman translates this broad claim into detailed threats and injustices while regularly demonstrating that the "charge that universities are somehow dominated by 'the Left' is now and has always been both false and fantastical."
Reichman moves from AAUP history to current theoretical writing on academic freedom and the common good, then to revised versions of earlier opinion pieces, and to investigative and legal sorties on behalf of the AAUP on extra-mural expression and the challenges posed to it by new media. He then considers bad dependency and directive funders, the false hopes of cheap and efficient online education, and generous (in both sentiment and scope) treatment of student academic freedom,  the uneven impact of increasingly expensive tuition, and the construction of students as (well-heeled or deeply indebted) consumers. Reichman's independent chapters contribute to a cumulative case for collective bargaining and reinvigorated shared governance as the best counters to self-maximizing careerism, faculty apathy, and the pummelling into submission of a massive and growing army of adjunct, precarious academic workers.
Reichman gives a chilling account of the activities of Young Americans For Freedom, Campus Reform, College Fix, FIRE, Amcha Initiative, and Professor Watchlist and its sponsor, Turning Point USA. He shows how the surveillance and stigmatizing activities of such groups rely for their success on the brand anxieties and timorousness of too many senior administrators. The Thought Police are thriving in the very places we might presume them least likely to succeed. The situation is such that Reichman approvingly quotes a colleague: "if there is an organized outrage machine, we need an organized response." And organized academic labour can take heart from student-led campaigns such as UnKoch My Campus as well as from AAUP's regular successes, all while recognizing the perils of recourse to the courts.
Frank Underhill, Don Savage, or Nancy Olivieri would probably not be surprised by Reichman's sense of the future of academic freedom as continuation of the struggle to achieve, protect, and enhance independent inquiry and self-regulating curricula serving the common good from the vantage of appropriately autonomous institutions. It is a formidable challenge for an organization with a much smaller membership (c. 40,000) than CAUT in a nation much larger than ours. But that challenge is being met with a mix of realism and resolve that we do well to emulate, supplement, and share.
__________________________________

Len Findlay is a distinguished Professor Emeritus, University of Saskatchewan