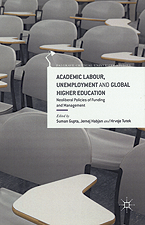 Suman Gupta, Jernej Habjan & Hrvoje Tutek (eds).
Palgrave Macmillan, 2016; 252 pp;
ISBN: 978-1-13749-323-1.
by Len Findlay
This contribution to the Palgrave Critical University Studies series is as disturbing as it is timely. The global sway and invasive capacities of neoliberalism continue to be felt by post-secondary institutions everywhere. That grandest of grand larcenies — the plundering of public institutions for private benefit — proceeds apace, while "cognitive capitalism" eats our thinking as well as our lunch, and Facebook monetizes our daydreams and inclinations. But resistance is never futile. And it is now more urgent than ever.
The opening chapter on "Academia and the Production of Unemployment" turns instrumentalist conversation about post-secondary education and labour markets, if not on its head, at least on its side in order to force acknowledgement and encourage analysis of the forms of under- and unemployment of academic staff and students that neoliberalization of academe requires, yet ignores or plays down as the cost of doing academic business.
The editors have all experienced something of the nomadic life that comes with many kinds of academic labour, and this has enabled them to recruit contri­butors from the UK, US, Ireland, India, Austria, Croatia, Slovenia, and Cyprus who offer compelling case studies and theoretical reflection under the volume's four headings: The Political Economy of Higher Education Policy Initiatives Now; Management and Leadership Against Academic Freedom; Generation Gaps and Economic Dependency in Academic Life; and The Scope of Collective Action in Academia.
As this thematic arrangement suggests, economic practices expose preliminary determinations which are then connected to policies deliberately produced by the "servant state" to meet the alleged labour market needs of flighty and im­portunate capital and the further commodification of inquiry and education in the names of affordability, efficiency and nimbleness.
The chapters unfold according to "a basic performative contradiction: those who are willing to engage in a sustained critique of academia tend to be those who often cannot find the material con­ditions for such a critique within academia." This is not so true of Canada as some other countries, perhaps, but the mes­sage is important: those forced to confront the realities of their alienated labour are often most able and willing to critique and seek to change them, even while being ignored or deplored by the most prominent beneficiaries from the current distribution of resources, security and prestige, i.e., managers and arguable "stars." It is no accident either, that the contributors "have all been engaged in recent student struggles." How many of us can claim that?
The Canadian reader will find much that is familiar in this volume, including foolishness and atrocity posing as leadership, sound management, shared services, intergenerational necessity and global competitiveness. Canada is not alone in wasting or sweating homegrown talent while promoting talent culls from locations that can least afford to lose them — all of this incentivized by burgeoning ranking systems whose outcomes clutter institutional websites to the detriment of humane, historically informed and intellectually rigorous narratives about why universities matter.
In the final chapter in a series increasingly committed to new forms of an old struggle, Hrvoje Tutek of the University of Zagreb captures the necessary conceptual and mobilizing shift well: "from career management to class analysis and collective action." Only by moving in this direction will "academics as workers" stem the current tide of cynical self-maximizing and its undertow of self-subordination.
_________________________________________
Len Findlay is English professor emeritus at the University of Saskatchewan.