October 25, 2019 at 9:00am

-

October 26, 2019 at 5:00pm
Delta Ottawa City Centre
101 Lyon St
Ottawa, ON K1R 5T9
Overview
– Academic libraries and archives across Canada are facing reorganization and restructuring. These initiatives can threaten the positions and work of librarians and archivists, and undermine traditions of collegial governance. The 2019 CAUT Librarians' & Archivists' Conference will investigate and discuss this reality. Participants and panelists will examine how librarians and archivists, individually and together with their academic staff associations and CAUT, can resist the devaluation, deskilling and reassignment of traditional work, and ensure a strong place in new organizational models for the core values of community service, openness, collegial governance, and social justice. Please join your peers from across Canada at this bilingual event.
Registration for the Conference is available on-line only.  Early Bird rate cut-off of September 21, 2019.
                                            Early Bird                      Regular
Regular Fee:                             $425.00                            $475.00
Student:                                    $150.00                            $175.00
Contract Academic Staff:      $300.00                            $350.00
— To register, please click on the "register" button.

Hotel Accommodation
Delegates are required to make their own hotel reservations directly with the Delta Ottawa Hotel. It is imperative that reservations be made no later than the Sept 20th cut-off date. Hotel reservations can be made on-line by clicking on the image below or by contacting the Delta Ottawa Hotel at 613-237-3600 or 1 888 236 2427 and mentioning the "Librarians and Archivist Conference" to obtain the negotiated rate of $219.00/night (Traditional guest room).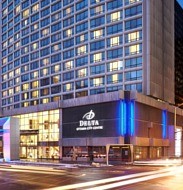 Note: Any queries with regard to hotel accommodations should be directed to Marcel Roy (roy@caut.ca).